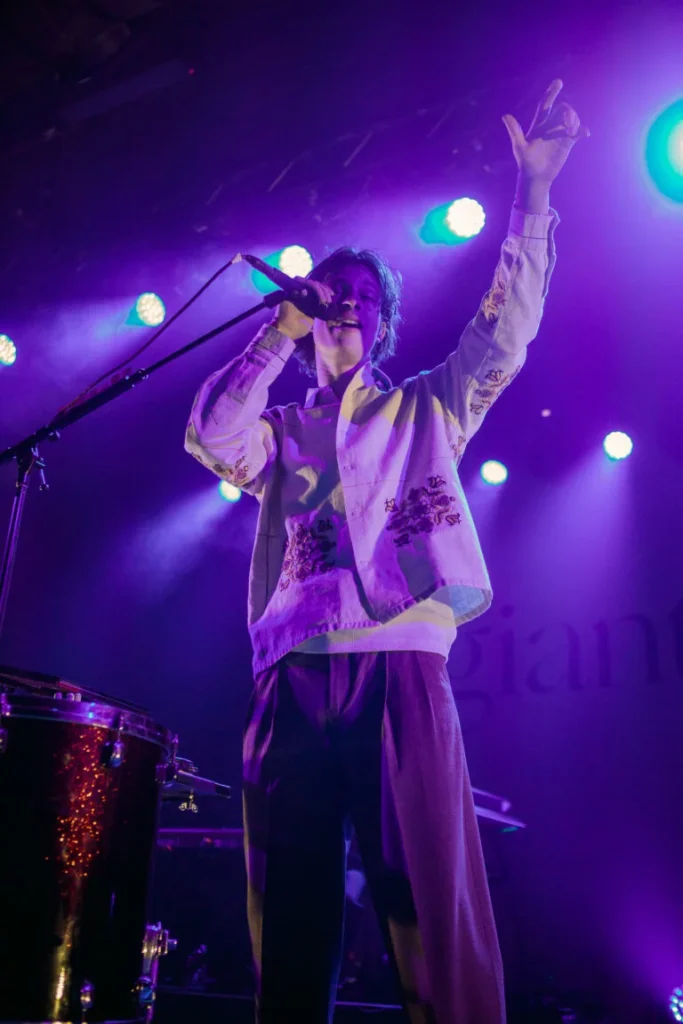 German indie anthem writers Giant Rooks have released their Spotify single with a stripped down performance of their hit "Bedroom Exile" and a cover of Clairo's "Bubble Gum." You can listen to the tracks here.
Since 2020, the internationally acclaimed indie band from Hamm has been part of the Spotify RADAR programme, proving to be one of Germany's most successful exports. To record the current single "Bedroom Exile", the five members of the band decamped to the US.
Last November, Spotify welcomed Giant Rooks to the legendary Electric Lady Studios in New York to record their first exclusive Spotify single. Originally set up by Jimi Hendrix, the studios have previously been the setting for historic recordings by musical greats such as David Bowie, Led Zeppelin, Stevie Wonder, Taylor Swift and Lady Gaga.
"The Electric Lady Studio is a name I've been very familiar with since my discovery of Jimi Hendrix's legendary album Electric Ladyland many years ago. Nearly all of my favourite albums were recorded there. The Spotify single recording is a dream come true," says the band. "The studios have a vibe all of their own. The words of Frank Ocean, which you can read on one of the numerous gold records there, describe this magical place best: I'm sure there must be something in the walls ! PLS leave it. Thanks to Spotify and everyone who made it happen!"
Whether it was the ghosts of Hendrix and Bowie – the latter recorded the song "Fame" here in 1975 – the result of the studio session is worth a listen: The band recorded an intriguing interpretation of their current single "Bedroom Exile": smoother, more stripped back and, thanks to the live setting, with a noticeable lightness. The second song in the session is a cover of "Bubble Gum", originally by Clairo. Instead of a solitary acoustic guitar, the musicians make use of the full potential of the studio. Using a synthesizer, drums and background vocals, Giant Rooks transform the minimalist song into a playful, dreamy pop ballad.
"For the Spotify session we tried out a lot of new things and played different songs. We settled pretty quickly on Clairo's "Bubble Gum." The idea was to find a song that originally sounded very different from Giant Rooks music as you know it," the band explains. "That was certainly the case with Bubble Gum. The original song sounds really minimalist and intimate. We've turned it into a band version that we hope all listeners will enjoy – maybe even Clairo herself!"
"We were delighted to welcome Giant Rooks to these historic studios as the first German band on Spotify Singles. Since the band joined our newcomer RADAR programme in 2020, they have enjoyed considerable success, and we're delighted to continue accompanying them on this path," says Viktor Zajac, Manager, Artist & Label Partnerships at Spotify.
The up and coming band will also be on location at Spotify's big music summit ALL MUSIC FRIDAY, where they will give a live performance. In addition, they will be returning to the US for their North American tour and making their Lollapalooza debut in Chicago this summer. Full tour dates can be found at the band's official website.
During their career, the band has accumulated over 2B streams with 3.6M monthly listeners. Their 2022 global hit "Tom's Diner", together with AnnenMayKantereit, surpassed 1.4B streams, charted in the Spotify Top 200 in over 30 countries, peaked at #37 on the Spotify Global Charts, is certified Platinum in Canada and Gold in the US. Last year, Giant Rooks completely sold out German, US and European headline tours with over 70 dates and even performed at the Hurricane / Southside festivals in front of over 60K people. In total, the band can look back on over 232K radio plays in over 55 countries.